Today at lunch 3 students (2 of my friends and myself) made a poster that said "Thats so gay" we had students cover the words with there hands pledging that its not okay to say things like that.
Even though its "Slang" We need to know when to stop because others might be offended.
I think this was an amazing event, it just goes to show we do have people that care!
I was so shocked with the turnout we had today.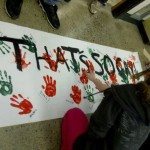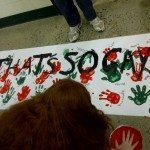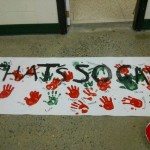 This week the leadership class will be hosting events throughout the day, and lunch activities.
I suggest any school having a whole week just to take a stand against bullying. It makes the school come together!
The following two tabs change content below.

Christina is a student at Humber College in Toronto, Ontario. She loves acting, talking and making jokes.. She is friendly and has a odd sense of humour as well. She wants to be a actress and a part-time comedian when she is older. .

Latest posts by Christina H (see all)